College of North London, NW10
CLIENT: Notting Hill Housing Trust
ARCHITECT: HTA Architects
ENGINEER: Ellis & Moore
SURVEYOR: Bailey Garner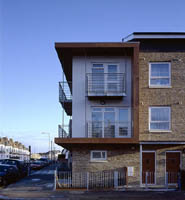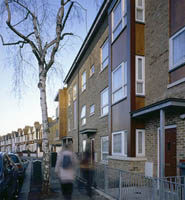 Design and build of four, three storey houses and 9 flats on former college grounds.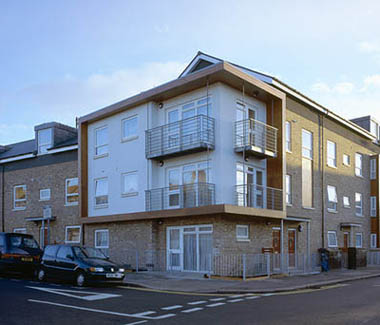 Pound Lane is a small redevelopment of an existing workshop on a corner site in Dollis Hill, a residential area of north west London.
The new scheme consists of 14 units of affordable housing for rent. It is designed to integrate with the adjacent housing, using some of the same elements – bays, dormers, slate, reinterpreted in a modern idiom.
On the corner of the site we have located a focal apartment building, slightly higher than surrounding structures and with an eye-catching swooping metal roof, which gives a sense of place to the junction and offers residents views down the street.