Stockwell Park
CLIENT: Network Homes Group & SW9 Housing
ENGINEER: Ellis & Moore
AWARD: Civic Trust Awards 2020
Photography: Matt Clayton
Refurbishment of the Stockwell Hall of Fame – graffiti pen and ball court.
Completed May 2019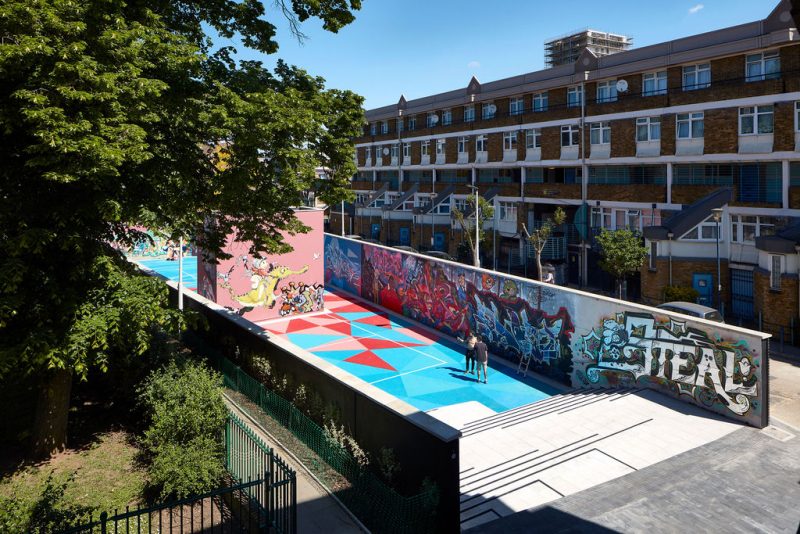 The Stockwell Hall of Fame was originally built in the 1950s, to be used for sports by the children of the Stockwell Park Estate. Over the decades the space has become better known as a place to legally paint street art and specifically typography, attracting artists from across the globe.
As part of their estate regeneration, Network Homes have invested in this area to promote the space as a place to showcase artwork, whilst also improving the conditions for sports and events usage. The work will also combat the several issues with the existing space, which includes concerns over safety, drainage problems and aesthetics.
New wall openings, steps and lighting will open the space up to the outside world and new brick cladding and floor coverings will improve the look of the whole area. A large central podium creates a landmark canvas for painters as well as separating the space so that multiple groups can use it simultaneously.
The project was completed in Spring 2019 and is a new cultural destination in the Brixton/Stockwell area, providing a great space for sports, art and performances.
The scheme was awarded a Highly Commended at the Civic Trust Awards 2020 and is a Finalist within the Social Value category at the Building Awards 2020.