Soho, London W1
CLIENT: Soho Housing Association,
            Notting Hill Home Ownership,
            Westminster City Council
ARCHITECT: CGHP Architects
ENGINEER: Andrew Weller Associates
SURVEYOR: Dearle & Henderson
AWARDS: Awarded the Evening Standard Design Award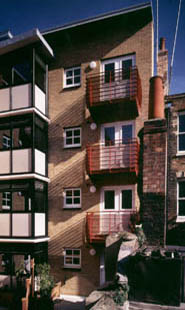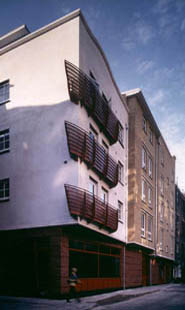 A design and build construction of 19 flats, 2 retail units and 20 Barrow Spaces for the following clients:
The site is located within a conservation are in the heart of Soho just off Berwick Street Market that had been a vacant plot for at least 15 years. Notting Hill Home Ownership (NHHO) shared ownership starter homes     along Peter Street which consists of eight 2P flats with its own separate communal staircase and Soho Housing Association's general needs housing. All flats have external balconies and the top flat has a roof terrace. The projecting bays
in Greens Court allow for residents in these flats to have views along Greens Court but not into the accommodation directly opposite some 3.2 metres away. These bays clad in red cedar and those windows facing the flats opposite have white opaque glazing. Completed in 1999 the project was awarded the Evening Standard Design Award.